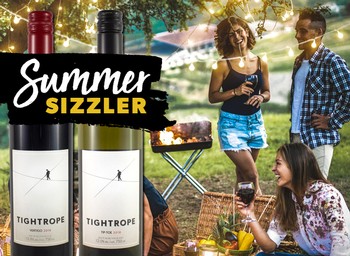 Summer Sizzler 2 pack Collection
Share your Canadian summertime moments this Canada Day with our
"Summer Sizzler" 2 pack Collection!
Enjoy a BBQ with family & friends, a picnic in the park or fun in the sun with our special Canda Day promotion!
Our Winemaker Lyndsay, has uniquely created these red & white signature blends and has chosen them as the perfect combo to pair with your Canada Day celebration!
---
2018 Tip-Toe - Newly Released - our signature white blend of Gewurztraminer (52%), Chardonnay (24%), Semillon ( 14%) and Riesling (10%). The nose is vibrant with the aromas of rose petals, mandarin, pineapple and spice. It has flavours of pear, mango and pink grapefruit, concluding with a long refreshing finish.
Unique Tip: We have Tip-Toed through four different select vineyards, including our own Tightrope Vineyard to source these specific varities. The different components of this wine were thoughtfully blended to create a refrshing great summer sipper for all to enjoy!
Drink now through 2020
Pair our Tip-Toe with a group of friends, a picnic basket of charcuterie snacks; or a grilled salmon steak and spinach salad! This unique white blend is the perfect choice for Canada Day or any special occassion!
---
2016 Vertgo - Sold at winery, wine shop, wine club and select retail markets ONLY--our small lot signature premium red blend of Merlot (47%), Cabernet Franc (24%) and Barbera (29%). It is fruit forward on the nose with aromas of cassis, blackberry, plum and spice, enhanced by a pleasant earthiness on the palate and flavours of chocolate leather and rhubarb pie. It is a medium bodied wine with a soft velvety texture and a lingering finish.
Decant to drink now through 2027
Unique Tip: Tightrope Winery is one of two vineyards in the Okanagan that grow the Barbera grape. This red Italian grape variety gives our wine a unique touch of spice, deep color, full body and high acidity to allow this wine to be cellared for a long time.
Grill up a T-Bone steak or veggie wood fired pizza for a backyard BBQ of fun with your closest family & friends and you have the perfect pariring for this distinctive premium red blend.
Celebrate your Canada Day in the perfect way with our "Summer Sizzler 2 pack"!
Summer Sizzler 2 pack=$53.93 + taxes
Order this exclusive collection now until June 28th and receive a unique
Free Canada Day keychain and branded Tightrope Winery coasters!
Order your "Summer Sizzler 2 pack" Today!!
---
Shipping Details:
To receive your special 2 pack by Canada Day-- all orders must be placed by June 24th. All other orders can be placed on or before June 28th.
Business addresses will be shipped by ATS and all other orders including PO Box addresses will be shipped by Canada Post.
---
FREE Shipping? Purchase 12 botttles of your favourite Tightrope wines and join our Walk the Wire Wine Club to receive our handcrafted and award winning wines all across Canada, right to your door!!