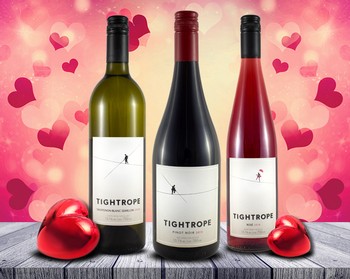 Exclusive Valentine's Gift Pack
~ "All you need is Love & Wine" ~
"Fill Your Glass with Love" this Valentine's with our
Exclusive Valentine's Gift Pack
From now, until Feb 7th we are offering this very special promotion to share with loved ones, yourself or let someone know you are thinking of them!
This 3 bottle Valentine's Gift pack is specifically chosen with this very special occasion in mind. We have hand-picked these wines, wrapped and decorated with Love, with the opportunity to share our special Message in a Bottle with all of you:
Love of Labour
2015 Pinot Noir - "Platinum"
The special care, attention and extensive work that is taken in the vineyard and winery to make this wine, including the "wild fermentation" process, makes you appreciate the Love that is given in making this wine and the devine quality you deserve.
Love they Neighbour and Family
2016 Sauvignon Blanc Semillon - "Gold"
With recently taking on a family vineyard on the Naramata Bench gave us a new & special wine to compliment our white wine porfolio. With every sip, you can now join us in sharing the Love of this wine and celebrating our special family connection.
Love the Unqiueness
2016 Rose - "Double Gold"
With being one of two vinyeards in the Okanagan Valley that grow and produce small batches of Barbera, we can share the Love of this grape and the special unique blend of wine with all of you.
Fill Your Glass with Love!
Just simply order the 3 bottle Valentine's gift pack and
share the Love of Wine with yourself or some one else!
P.S. Add your very own special Message in a Bottle with your Valentine's Gift Pack. Just add your special notes when ordering your gift pack and we will take care of the rest.
P.S.S. We ship all across Canada to reach loved ones near and far.
P.S.S.S. Everyone derserves a little Love in their glass!