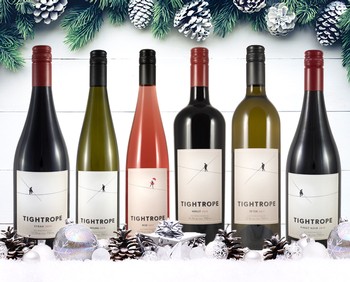 "Holiday Classics" Gift Pack
Do you remember one of your most mermorable moments of the festive season? Sharing time with family & friends, watching and quoting lines from your favrorite Holiday Classic movie?
Cherish the Magic of the Season and pair our favorite "Holiday Classics" with one of yours!
---
From now until December 14th we are offering Free Shipping on our Holiday Bundle.
Make your selection online and enter the following:
code: HOLIDAYCLASSICS2018
Click here to select your Holiday Bundle
Whether your treating clients, friends, loved ones or yourself our
Exclusive "Holiday Classics" Gift Pack will bring back the true Magic of the Holidays!
These 6 wonderful wines were chosen as this year's Top Classic picks of the season and
were exclusively hand-picked from our Winemaker Lyndsay!
To add an extra sprinkle of Holiday Classic charm, Lyndsay has also Released our special Libraried wines.
(these wines are ONLY available by ordering your Holiday Bundle)
~First 25 customers to order our "Exclusive Holiday Classics Gift Pack" will receive our~
Released Library 2014 Syrah - Gold, Cascadia Wine Competition 2016
(All other orders will be replaced with our 2016 Syrah)
Note: Limited quantities available in this bundle selection.
---
2016 Riesling - Miracle on 34th Street. "I believe...I believe...It's silly, but I believe."
2014 Syrah - Love Actually "If your looking for it ~I got a sneaky feeling that you'll find Love is all around. To me you are perfect"
2017 Tip-Toe - Elf - "The best way to spread Christmas Cheer, is singing loud for all to hear."
2017 Rose - It's A Wonderful Life - "And wine...that joy and prosperity may reign forever."
2016 Pinot Noir - The Polar Express - "Seeing is believing, but sometimes the most real things in the world are the things we can't see."
2016 Merlot - The Nutcracker - "The Christmas parties of long ago all blur and mix in memory. The real and the unreal become as one."
~"Every classic line is the perfect pairing with wine!"~
---
Shipping Details:
Orders with business address will be shipped by ATS. All other orders will be shipped ground by Canada Post. Please review your tracking email for confirmation of the delivery of your package