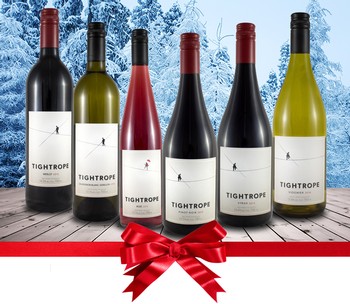 "Festive Favorites" Holiday Bundle
Warm your soul, feel the heart and bring special ones closer during the holidays with our
Exclusive "Festive Favorites" Holiday Bundle.
From now until December 15th we are offering, Free Shipping on your Holiday Bundle
Make your selection online and enter the following:
code: FESTIVEFAVS2017
Click here to select the wines
---
The Holiday Season is a great time to enjoy your own unique traditions and listen to your special festive favorites! Whether your treating clients, friends, loved ones or yourself our
Exclusive "Festive Favorites" Bundle wrapped with a festive bow is a gift worth giving!
Our 6 fabulous wines are this year's "festive favorites", as they are exclusively handpicked from a selection of
our Top Award Winning Wines of the Year!
(some wines are only available by ordering our Holiday Bundle)
~First 25 customers to order our Exclusive "Festive Favorites" Holiday Bundle will receive our~
"Platinum Winner" 2015 Syrah.
(All other orders will be replaced with our 2016 Syrah)
Note: Limited quantities available in this bundle selection.
---
2015 Merlot- Make your own Holiday decorations for the tree and string up the festive lights
"Rock'in Around the Christmas Tree"
2016 Sauvignon Blanc Semillon - Bring out your favorite Grandma's receipes and bake her special Holiday cookies
"A Marshmellow World"
2015 Syrah - Sit and enjoy the sounds of a the crackling fire and watch the falling snow
"Let it Snow. Let it Snow. Let it Snow"
2016 Rose - Let your loved ones know your thinking of them with a handwritten Holiday card and wrapped gift of wine
"It's the Most Wonderful Time of Year"
2015 Pinot Noir - Cuddle under a warm cozy blanket and flip through the pages of your favorite book
"Baby it's Cold Outsite"
2015 Viognier - Laugh and mingle with family, friends and loved ones over Holiday snacks and goodies
"There's no place like home for the Holidays"