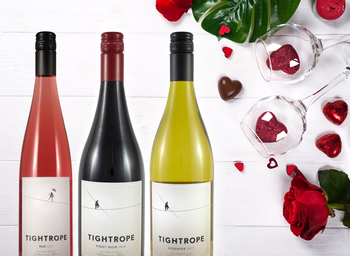 Exclusive Valentine's Collection
~Love the Wine You're With~
When it comes to Love, we tend to forget that wine and chocolate truly matter! Whether your celebrating Valentine's Day with your lover, friends, family, or yourself we want to make sure your day is ex-tra special!
From now until February 8th, celebrate Love with our
Exclusive Valentine's Collection
$75.63 + tax
As an added Valentine's treat we are offering ...
~Free Shipping on our Exclusive 3 bottle Valentine's package~
Make your selection online and enter the following:
Code: LOVETHEWINE
---
To share in a little Valentine's fun, we would like to take you on a journey... choosing our best suited wines for your Special Day paired with the all time favorite...Chocolate!!
What to drink... with your Valentine?
2016 Pinot Noir - Gold, National Wine Awards of Canada 2018
Your true love deserves the best attention at Valentine's, you need a wine that is perfectly balanced to impress. The complexity of the mouthfeel and elegant balance on the nose gives our full-bodied Pinot the love it deserves.
Dark Chocolate--Offset a decadent chocolate truffle with a glass of our Pinot and you've seen the stars! Add a little adventure and try dark chocolate prezels or dark chocolate almond bark.
Two hearts and two of these together, make everything complete!
What to drink.. with your favorite Movie on Valentine's Day?
2017 Viognier - Newly Released to our Portfolio
Valentine's Day often rhymes with celebration or its a good excuse for celebration. Aromas of orange blossom, vanilla and spice, soft mouthfeel and rich silky finish is just the beginning.
Milk Chocolate --Viognier and milk chocolate go hand in hand. Drawing out the true fruit notes with the creamy chocolate makes this an ideal pairing. Did someone say milk chocolate strawberries? mmm....
Let's Celebrate! Chocolate and Viognier...simply made the movie taste that much better!
What to drink...at Valentine's dinner with friends?
2017 Rose - Gold, InterVin International Wine Awards 2018
Fun times with friends is Pinot Noir and a splash of Barbera! Thanks to the little touch of spiceness from the Barbera grape, gives this wine the perfect backbone that it needs.
White Chocolate -- If you say Yes to Rose and white chocolate you will have yourself a soul mate! The creaminess of the white chocolate allows the drier style Rose's fruity and citrusy notes to pop!
Bring a box of white chocolates and a bottle of our Rose and everyone will love you!
Make your Valentine's extra special with our Exclusive 3 bottle collection!
Because...
When you Love the Wine You're With...Nothing Else Matters!
---
Shipping Details: Orders with business addresses or have authorized their shipments to be left at their front door will be shipped by ATS. All other orders will be shipped ground by Canada Post. Please review your tracking email for confirmation of the delivery of your package.